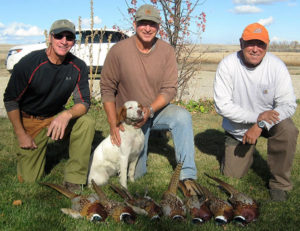 Ashuelot Sunset Setters' goal is to produce gun dogs that double as family pets. Our Setters come from some of the best bloodlines in the country–Many of them NSTRA Champions.
We have a passion for bird hunting, mostly pheasants, here in North Central Montana. Our dogs share that passion. I've talked to some pointing dog owners that will not put their dogs on pheasants because they "won't hold, and that will ruin a pointing dog". I believe that our Setters are intelligent enough to learn to work running birds. I have watched our foundation dam, Sadie, point and relocate on a running rooster over a dozen times, along a mile-long drain ditch, before pinning him down. We lost Sadie in 2016, but her daughter Skye carries on her genetic excellence and passion.
We strive to produce setters that point and retrieve birds with passion and style. We look for 4B's – Brains, Bird sense, Biddability and Beauty.
We are relatively new to the Setter community, but our bloodlines are not: Tekoa Mountain, Pinekone and Grouse Feather, just to name a few. Our genetics and pedigrees are as good as they get and we believe that our pups will perform accordingly. We are not a puppy factory and as of now will only have one litter this year. These pups will be well socialized and guaranteed to be not only tremendous bird dogs, but great family pets as well.